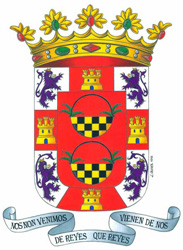 My work is divided in three main categories
Graphic design:
My technique is based on the use of the b est gouache pigments (for opaque colours) and watercolour ( for transparent colours) on Arches rag paper (made in France since the 15 th century). I also produce black and white line drawing.
We must distinguish between recreation and creation of a coat of arms.
Armorial Recreation: This consists in redrawing, with a twist of my own, existing or historical coat of arms. My clients sometimes rediscover the beauty of arms in colours that they had only known in black and white from books or on family silverware.
This work also involves complementary research which allows me to find existing external ornament ( such as mottoes, crest and more..). I can also create a new design for external ornaments to complement the actual coat of arms.
Recreating a coat of arms can also be a chance to correct ancient errors and restore their original form to the arms.
Armorial Design: Designing new arms is the most interesting, yet sensitive, part of my work. I truly hope that they will become a family heirloom used generations from now.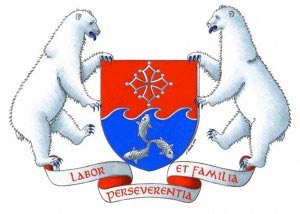 Designing new arms is a three step process:
1) The design is based on a set of questions to which the client answers either by email or on the phone. This is followed by one or more colour drafts.
2) Once a design has been chosen I will check to see that it is original and not used by someone else.
3) Production of the coat of arms. It includes (at least): a shield, a helmet, a crest, mantling and motto. The coat of arms is produced using gouache and watercolo urs on rag paper 300g/m2 measuring 23 x 31 cm or 26 x 36 cm. The drawing will measure about 20 x 25 cm.
An engraved CD of the colour drawing is also included in the price. It is a high definition scan (300 ppp) compatible with both PC and MAC
For the last 20 years, demand for coat of arms has been steadily growing in France and all over the world. My client are mainly individual who w ish to add colour and picture to their names. They come from all walks of life : winemakers, lawyers, scientist, military personnel, policemen, bankers, translators, CEO's…
Each new design is unique. It is a custom made interpretation of my client wishes. In general considerations such as family history, place of living, social origins and name provide a basis for the creation. The later is particularly important since the blazon (the language of heraldry) provides words in abundance to play with and give life to names. This specialised vocabulary is the base for what is called canting arms. Charges such as trumpets for Trumping ton , three arms for Tremain, an anvill and a hammer for Smith will be born as an allusion to the name or the profession of the bearers.
Displaying arms on various types of materials and object: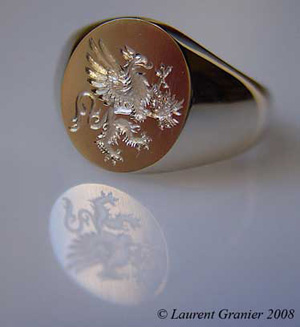 My work is usually digitalized to provide a convenient way to reproduce armorial bearings according to modern techniques. I can also specifically design a drawing to adapt it to the work of the best craftsmen (signet rings, seals, enameled medals...).
I pride myself in selecting the best craftsmen and craftswomen to reproduce my clientÂ's armorial bearings on the most noble materials anyone can think of. Engraving on silver or gold, glass, stained windows, bookplates, painting on porcelain and more are all possible. Each creation is unique.
Heraldic investigations: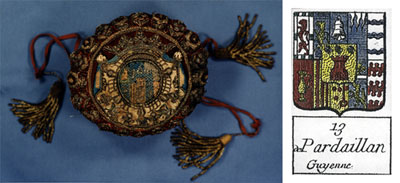 Heraldic investigations are done internationally within public and private collections. I have a large networks of very competent contacts in many countries who are able and willing to help me.
Heraldic investigations are needed to assert the uniqueness and ownership of a new design. This prevent unvoluntary usurpation of arms and legal prosecution. I pride myself in offering the best possible service in this domain that I consider my forte.
Coat of arms identification will help in discovering who is the owner (a family, a city, a religious order...) of an object or a building adorned by them. It can also give invaluable information to historian, archeologist, art historian, antique dealers and many other professionals. Attributing ownership of an object to a famous person with the help of heraldry can dramatically increase its commercial and historical value. Private individual may also use these services when they want to know more about an object or a house they own.
Thank s to genealogical information, family history, family names and a bit of geography heraldic investigation can also be taken the other way to look for a family coat of arms.
Fell free to contact me to get more information since each project is unique.
Free estimate provided on request